Claims are the core of the insurance industry, so dealing with the flow of claims is one of the most important parts of any insurance company's business. When it comes to large companies, the number of claims can be in the hundreds or even thousands. The most common types of application are in the following cases:
Injuries

Property

Damages

Employee

Medical

Litigation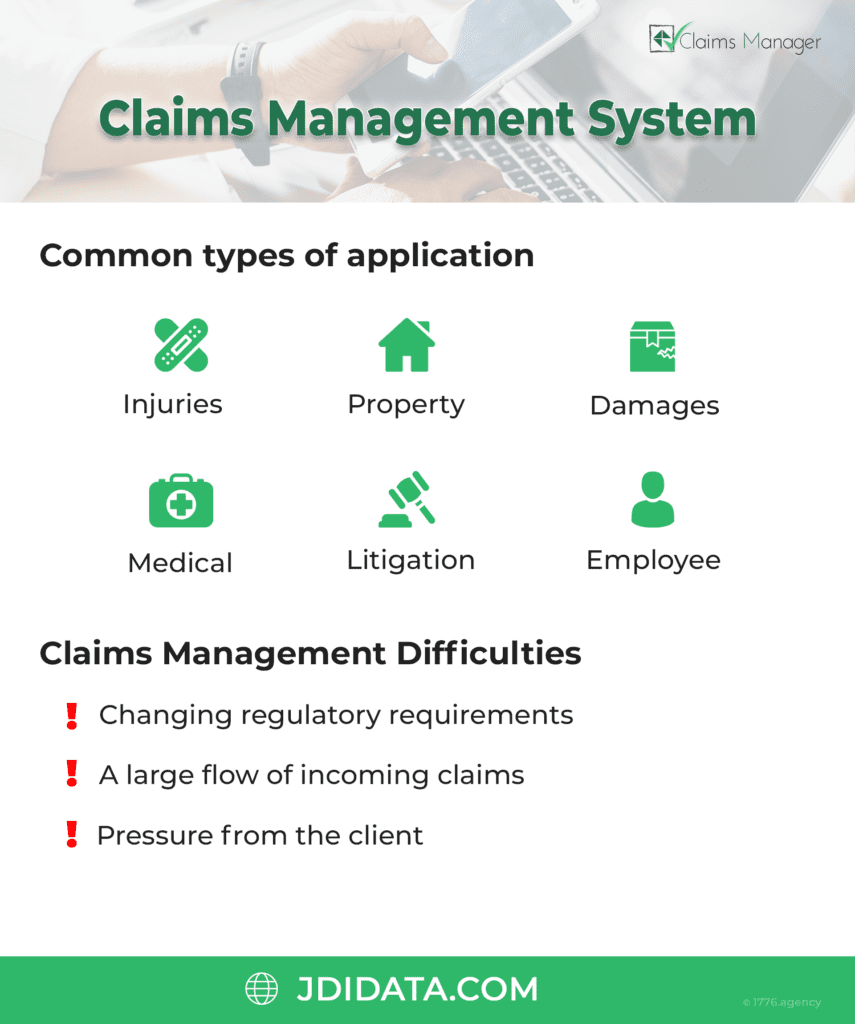 In this flow, missing even one claim can cost huge financial losses and cause irreparable damage to your reputation including potential bad faith.
A well-functioning complaints process will not only preserve but even enhance the firm's reputation. If the client's problem is resolved quickly and efficiently, he is likely to come back and recommend the company to his friends, relatives, and acquaintances.
However, the claims management process is quite complex, and this is due to several circumstances:
Changing regulatory requirements;

A large flow of incoming claims;

Pressure from the client.
As a result, employees find themselves overwhelmed with a pile of documents, incoming calls, and emails, which can eventually lead to new customer complaints, but this time due to the lack of feedback on their problem.
To focus on solving problems rather than trying to put them in some kind of order, an organization needs a claims processing system. In other words, it's time to replace the traditional document management system, which includes paper files and manual data processing, with cloud-based enterprise solutions.
Why is the Claims Management System needed?
It's exactly the right option to help your employees get away from the endless stream of documents, keep them in one place, get data on any claim at any time, and provide full control over every claim option.
The main purpose of such a system is to ensure accurate and consistent work on each claim, improve service levels, and reduce the number of unfulfilled requests.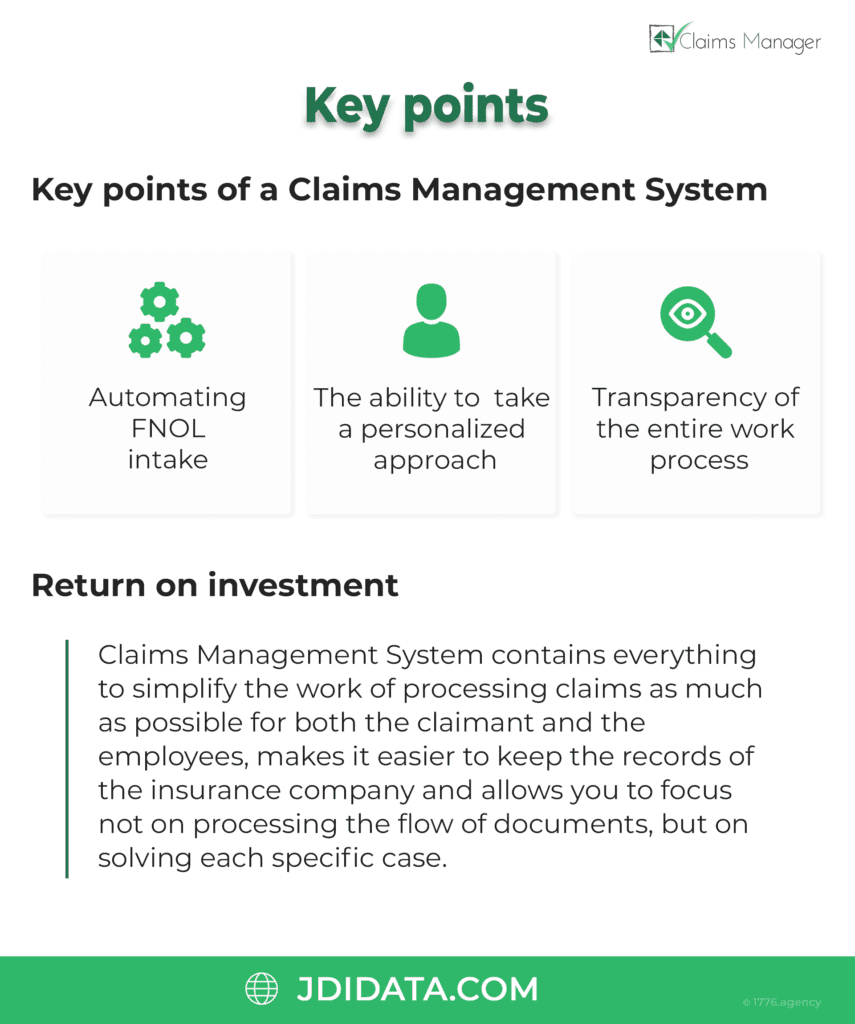 Key points of a claims management system:
To appreciate the full benefits of switching to claims management software, you need to outline the main principles on which it works.
Automating FNOL intake
Claims begin with an FNOL – First Notice Of Loss. In other words, it is an appeal sent to the company when an insured event occurs.
The claims management system makes reporting as easy as possible. The client can send the First Notice of Loss via the insurance application, included in this system.
After the claimant's request, FNOL will be automatically added to the workspace, and the adjuster will immediately receive a notification and can start the claim process – assign tasks to other employees, generate the necessary notifications and schedule an investigation of the insured event.
In other words, anything that might have taken weeks before will now be resolved in a matter of hours, allowing to deal with claims in the most efficient way possible.
The ability to take a personalized approach
Settling insurance claims requires an individual approach because quite often there are cases that are difficult to solve in any typical way.
And while in the past this approach required IT specialists to modify the software configuration for each specific incident, now the user can do it themselves. The claims management system does not work according to several predefined templates but allows for flexible modification, customization, and creation of each stage of the workflow.
In addition, the system contains a set of pre-made solutions that simplify the work of handling a typical claim and accelerate its execution.
Transparency of the entire work process
Using the claims management system is also convenient because both the employee and the client can track the whole process of claim handling. Such a solution increases the level of trust in the insurance company and gives the client confidence that his appeal will be processed timely.
The system can be set up in such a way that after each stage of work, the client will receive an e-mail notification and be sure that his case is handled according to the established rules.
Claims Management System has a common database for the entire insurance company, providing easy access to data for any employee as well as for directors themselves to better understand the situation and make the right business decisions.
In addition to the main points, it has other advantages: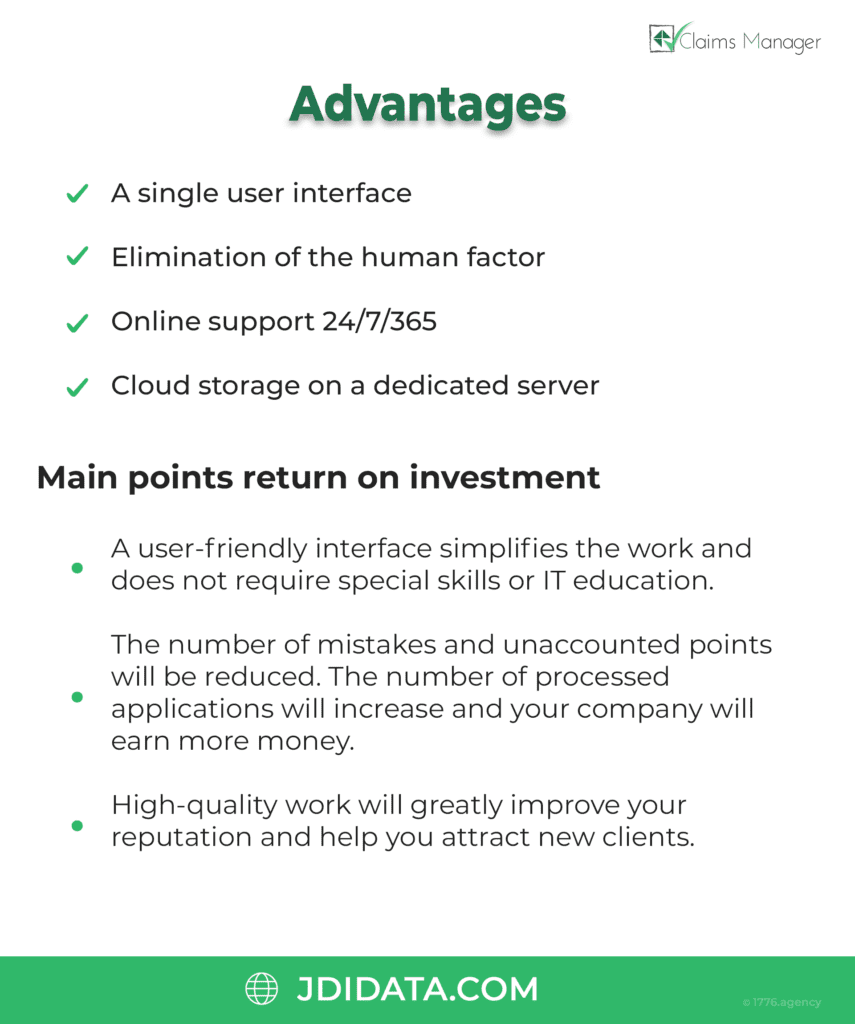 A single user interface for employees and customers that not only makes the work easier but also increases satisfaction for both parties;

Elimination of the human factor, which helps to avoid mistakes and increase efficiency;

Online support 24/7/365;

Cloud storage on a dedicated server, which ensures reliable storage of all documents and their quick recovery in case of technical problems.
Return on investment
When talking about the claims management system, we should definitely mention the Return On Investment. In other words, all the money you've invested in moving to the new software will not only return, but also give you a significant profit.
This consists of the following points:
A user-friendly interface simplifies the work and does not require special skills or IT education, which speeds up the work process and allows you to manage a large number of appeals.

Employees will no longer waste time on processing a large number of paper documents, which will not only allow them to deal with direct responsibilities for handling complaints but will also reduce the number of errors. As a result, the number of processed complaints will increase, and your company will make more money.

High-quality work will greatly improve your reputation and help you attract new clients.
As you can see, the Claims Management System contains everything to simplify the work of processing claims as much as possible for both the claimant and the employees, makes it easier to keep the records of the insurance company and allows you to focus not on processing the flow of documents, but on solving each specific case.
So if you want to not only retain your regular clients but also attract new ones, think about moving to Claims Management System and take a new step in the development of your business.